It's Wednesday!  Friday Fictioneers is here! And would you looky here… Rochelle is using our little trouble-maker, Omelette, for the prompt.  Sorry she is blurry. It was one of those "quick before she jumps" situations.  Can't very well diss my own pic now, can I?  How about you click on the frogs below to check out the other 100-word stories, or, how about you add your own link?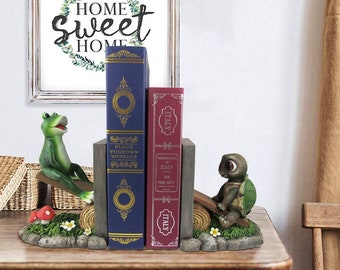 Haha!  Cute!  Does she always hide inside the bookshelf?
Yep!  I've decided to start using her as a helper.
How so?
Ever watch The Tonight Show when Jimmy Fallon uses cute puppies to choose the Super Bowl winner?
Actually, I have.
Well, my guy uses his cats in the same manner. 'Course, this year he had a 50/50 chance as they each chose a different team. I thought they should be disqualified but hey, who am I to judge?
So what's your point?
Sorry, Got carried away. She helps me choose my next book to read!
Hope she changes shelf sometimes…